Expat Emporium's Birth Year Coffee Mugs 1980s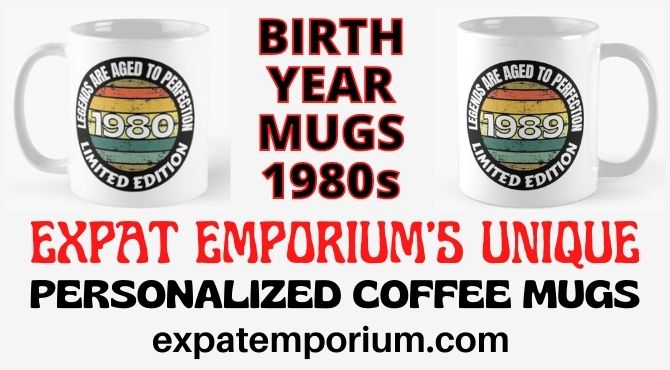 The 1980s What A Time It Was To Be Alive.
The 1980s were a time of big hair bands and music videos on MTV 24 hours a day. Who could forget breakdancing?

Coca cola temporarily changed their recipe to a "New Coke" flavor. The stuttering Max Headroom made his debut then as well.

The Rubix Cube was a puzzle toy people were obsessed with solving, Cabbage Patch Kids were toys children were obsessed with having, and lawn darts were a backyard game that caused multiple injuries.

The 1980s were a great time to grow up.

Morning coffee is the drink of choice of slightly comatose people worldwide. Let your Birth Year Mug show your pride in being born in the 1980s. Expat Emporium's one of a kind unique birth year mugs make a magnificent personalized gift for everyone born in the 1980s.

Great for drinks hot or cold, our unique mugs are better for the environment than disposable cups. Get one for yourself and buy one for a friend. (Our mugs have the same image printed on both sides for best appearance.)

Expat Emporium is reader-supported. When you buy through links on our site, we may earn an affiliate commission. As an Amazon Associate, I earn from qualifying purchases. Affiliate Disclosure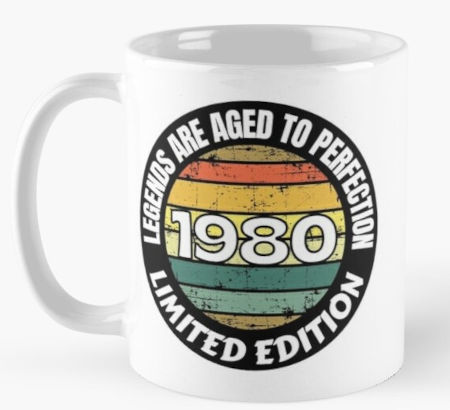 Birth Year Mug 1980
Legends born in 1980 are aged to perfection. This one of a kind, alluring birth year mug makes a great personalized gift for any limited edition person who was born in 1980. This mug will make a great addition to any coffee mug collection. (Image is printed on both sides of the mug.)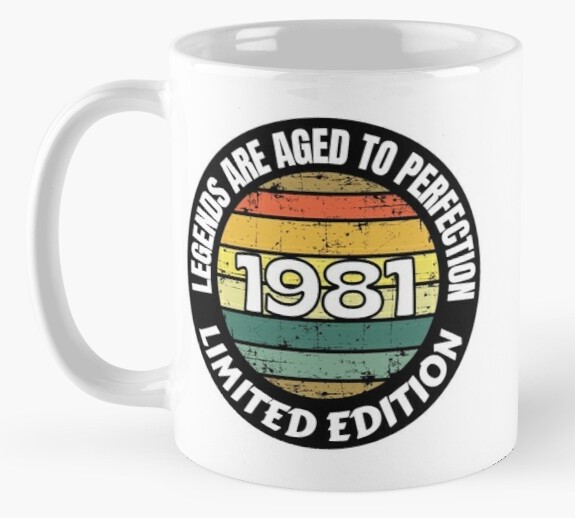 Birth Year Mug 1981
Legends born in 1981 are aged to perfection. This one of a kind, alluring birth year mug makes a great personalized gift for any limited edition person who was born in 1981. This mug will make a great addition to any coffee mug collection. (Image is printed on both sides of the mug.)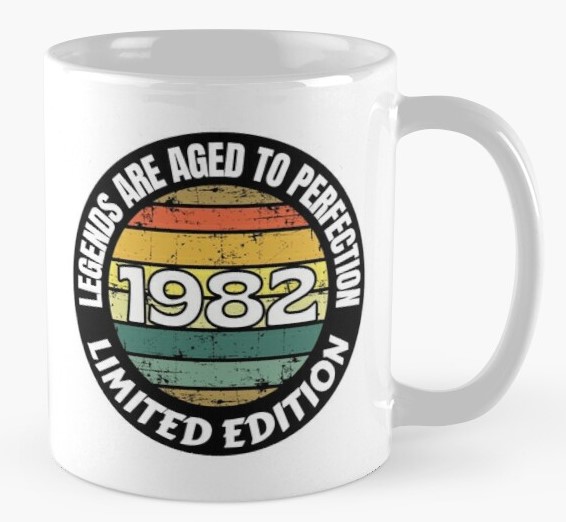 Birth Year Mug 1982
Legends born in 1982 are aged to perfection. This one of a kind, alluring birth year mug makes a great personalized gift for any limited edition person who was born in 1982. This mug will make a great addition to any coffee mug collection. (Image is printed on both sides of the mug.)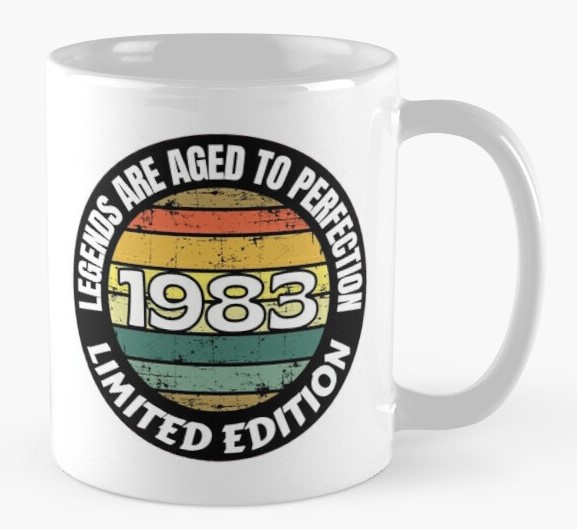 Birth Year Mug 1983
Legends born in 1983 are aged to perfection. This one of a kind, alluring birth year mug makes a great personalized gift for any limited edition person who was born in 1983. This mug will make a great addition to any coffee mug collection. (Image is printed on both sides of the mug.)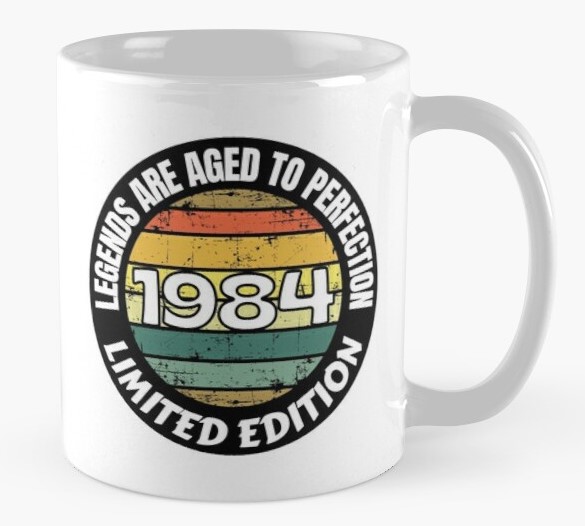 Birth Year Mug 1984
Legends born in 1984 are aged to perfection. This one of a kind, alluring birth year mug makes a great personalized gift for any limited edition person who was born in 1984. This mug will make a great addition to any coffee mug collection. (Image is printed on both sides of the mug.)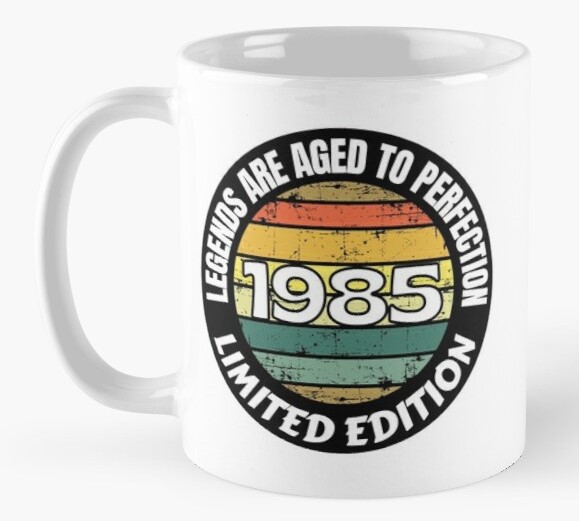 Birth Year Mug 1985
Legends born in 1985 are aged to perfection. This one of a kind, alluring birth year mug makes a great personalized gift for any limited edition person who was born in 1985. This mug will make a great addition to any coffee mug collection. (Image is printed on both sides of the mug.)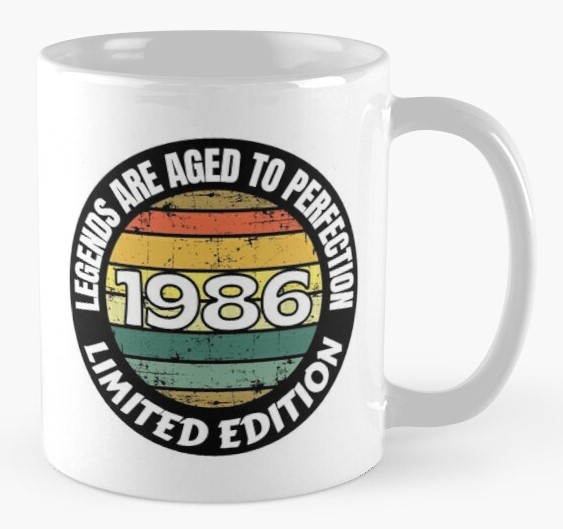 Birth Year Mug 1986
Legends born in 1986 are aged to perfection. This one of a kind, alluring birth year mug makes a great personalized gift for any limited edition person who was born in 1986. This mug will make a great addition to any coffee mug collection. (Image is printed on both sides of the mug.)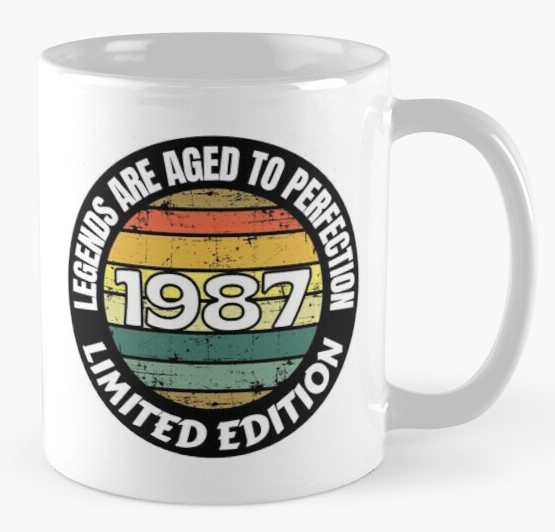 Birth Year Mug 1987
Legends born in 1987 are aged to perfection. This one of a kind, alluring birth year mug makes a great personalized gift for any limited edition person who was born in 1987. This mug will make a great addition to any coffee mug collection. (Image is printed on both sides of the mug.)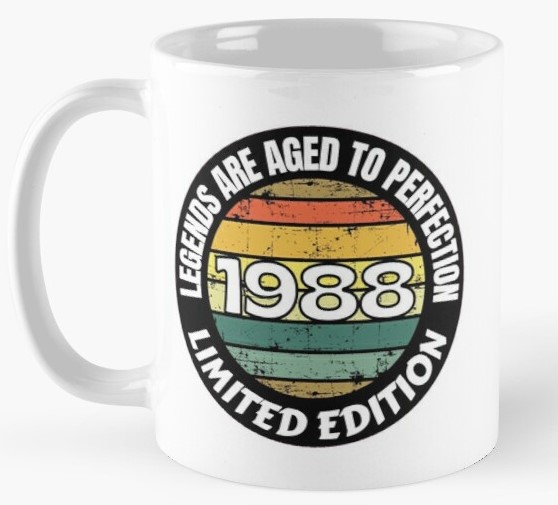 Birth Year Mug 1988
Legends born in 1988 are aged to perfection. This one of a kind, alluring birth year mug makes a great personalized gift for any limited edition person who was born in 1988. This mug will make a great addition to any coffee mug collection. (Image is printed on both sides of the mug.)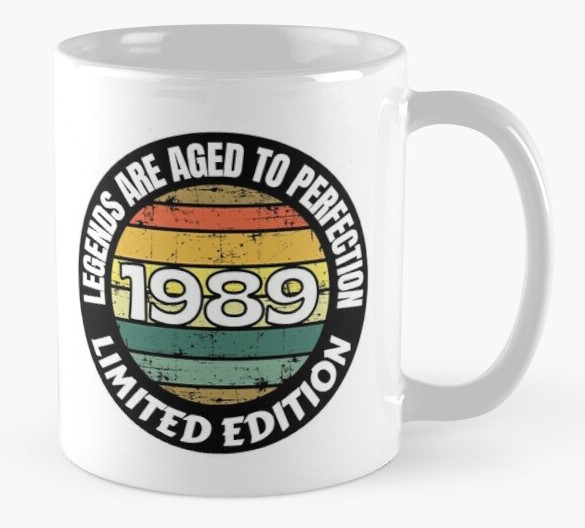 Birth Year Mug 1989
Legends born in 1989 are aged to perfection. This one of a kind, alluring birth year mug makes a great personalized gift for any limited edition person who was born in 1989. This mug will make a great addition to any coffee mug collection. (Image is printed on both sides of the mug.)


Expat Emporium is a participant in the Amazon Services LLC Associates Program, an affiliate advertising program designed to provide a means for sites to earn advertising fees by advertising and linking to Amazon.com.

All links on this site are subject to being sponsored content for which we will receive financial compensation - Affiliate Disclosure